I Lived in a Haunted House
I shared this TRUE haunted house story with my newsletter subscribers last week and decided you might like to hear it, as well.
With Halloween just around the corner, I thought I'd share my true haunted house story with you.
I was fourteen when my parents moved away from my childhood home to the country. Dad was a truck driver and owned a White Western Star. Understandably, the town changed its rules about parking a semi on residential streets, so we had no choice.
The house sat on an acre lot across from the golf course and was a ranch-style on a full basement—sounds nice, right?
And it was, at first.
We were in the house a few months before little things began to occur. A milk bottle sitting on the floor in the kitchen fell over while we were eating dinner in the dining room. Birds hitting the bay window and falling to their death, even though we had a colorful ribbon strung from side-to-side. Doors closing of their own volition. All could be explained away, but they left us with an uncomfortable feeling in our guts.
To clarify, my dad was on the road for long hours, so it was Mom, my two younger brothers and I living in the house and bearing witness to these events. Maybe, if Dad were there it would have been different—I don't know.
Mom had a workroom at the back of the house, next to her bedroom, where she would do sewing and crafts like eggery and paper toile that she sold at our local Farmer's Market. She often complained it was chilly in there but put it down to poor air circulation. Then, she started feeling like she was being watched, even though no one was there. One day, she swore she saw a shadow of a person in her bedroom mirror—again, no one was near.
My bedroom took up most of the basement, other than a room set aside for my brother who is two years younger than me. My youngest brother slept upstairs. I loved my room, it ran the length of the house and had a phone (a big deal for a teenager!), a pool table, and a library. The yard light filled the room with a golden glow at night making it easy to move around without turning on the lights since the switch was on the far wall near the phone.
One night, I woke up with my heart pounding from a bad nightmare. When I opened my eyes, it was pitch-black. So dark I couldn't see my hand in front of my face. Terrified, I climbed out of bed and inched my way across the room, trying to find the stairs. I called my brother's name several times, but he didn't answer. It was like all the air had been sucked out of the room. I was drowning in fear.
Finally, I found the steps and half-crawled, half-ran up them to the main floor and guess what? The yard light was on! I woke Mom up from my crying and she went to check on my brother. He was sound asleep and said the next morning he never heard a thing.
After that, I slept on the couch upstairs. Nothing could persuade me to go back to my room. A year or so later, Mom talked Dad into selling the house, even though they took a loss. We found out later, there had been a fire in the attic and always wondered if someone had died.
All these years later, I still can't stand anything near my face without it inducing a panic attack.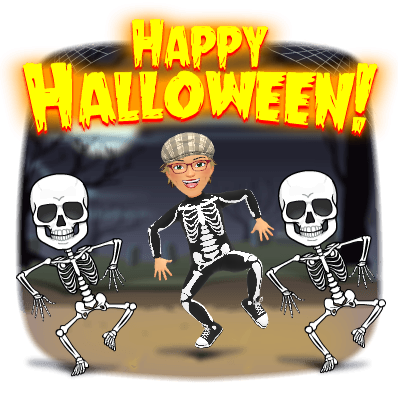 Now, onto a lighter topic; my new release, Married to The Texan, is available on Halloween!
Married to The Texan: Gambling Hearts Series
Amazon: https://www.amazon.com/dp/B07XBV6D8Y
International: https://books2read.com/MarriedtotheTexan
Add to your TBR List: https://www.goodreads.com/book/show/48072574-married-to-the-texan
Recommend me on Bookbub: https://www.bookbub.com/books/married-to-the-texan-gambling-hearts-series-by-jacquie-biggar
Receive 3 full-length heartwarming romances plus one bonus short story from USA Today Bestselling Author Jacquie Biggar
All your favorite alpha heroes and independent heroines!
Sweet, sexy romance. The perfect reading deal for your Kindle! Grab a drink and curl up for an unforgettable boxed set of romance best sellers. Each book is a standalone contemporary story of love, honor, duty, and family dilemmas.