Catastrophic spring flooding, blistering attacks in the media, and a mysterious disappearance greet Chief Inspector Armand Gamache as he returns to the Sûreté du Québec in the latest novel by #1 New York Times bestselling author Louise Penny.
It's Gamache's first day back as head of the homicide department, a job he temporarily shares with his previous second-in-command, Jean-Guy Beauvoir. Flood waters are rising across the province. In the middle of the turmoil a father approaches Gamache, pleading for help in finding his daughter.
As crisis piles upon crisis, Gamache tries to hold off the encroaching chaos, and realizes the search for Vivienne Godin should be abandoned. But with a daughter of his own, he finds himself developing a profound, and perhaps unwise, empathy for her distraught father.
Increasingly hounded by the question, how would you feel…, he resumes the search.
As the rivers rise, and the social media onslaught against Gamache becomes crueler, a body is discovered. And in the tumult, mistakes are made.
In the next novel in this "constantly surprising series that deepens and darkens as it evolves" (New York Times Book Review), Gamache must face a horrific possibility, and a burning question.
What would you do if your child's killer walked free?
Biography
LOUISE PENNY is the #1 New York Times and Globe and Mail bestselling author of the Chief Inspector Armand Gamache novels. She has won numerous awards, including a CWA Dagger and the Agatha Award (five times) and was a finalist for the Edgar Award for Best Novel. She lives in a small village south of Montréal.
My Review
Chief Inspector Armand Gamache returns to duty on the eve of his son-in-law's resignation amid internal upheavals, catastrophic spring flooding, and the murder of the young, pregnant goddaughter of one of his agents.
As Montreal, and most of Quebec, is threatened by bursting dams and rivers ready to burst their banks, Armand is thwarted at every turn by those who had him removed as head of the Sôreté. Adding to the stress, he's pulled between his concern for the province and the distraught father of the missing woman.
While the investigation seems to lead in an obvious direction, evidence is hard to find. The closer the agents come to making an arrest, the more questions arise, making this case one of the hardest Gamache and Beauvoir have been faced with.
Louise Penny is a master of suspense!
Within the first few pages, the reader is fully invested in the characters. The love and trust between Jean-Guy and Armand is so strong we hurt when they hurt, and cheer when they succeed against impossible odds. Their relationship is complex, with Beauvoir now sharing his mentor's office as head of the Sôreté, as well as being the husband and father to Armand's daughter and grandson.
Three Pines, the Gamaches adopted village, is a key part of each book, with its cast of eclectic characters. I adore grouchy old Ruth and her swearing duck (really!), the gay couple who run the inn, Clara and her strange but talented paintings, and many more. The village is so realistically written, I feel as though I could drive there myself!
Each book in this series is easily read as a standalone, though it does have an overarching storyline.
I give A Better Man 5+ lovely kisses- recommended reading!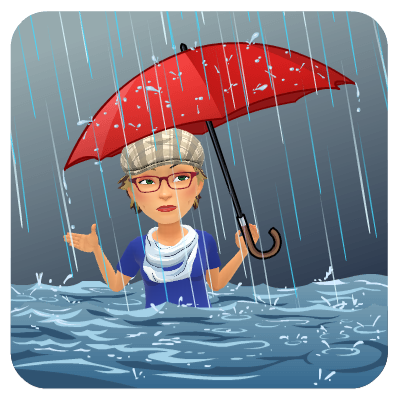 I love having guests on the blog. If you have a new release, a sale or just want to chat, send me an email via the contact page and we'll set something up. Hope to see you soon!