It's true. I'm not what most people would call "pretty" and, well, high school was rough. Fast forward ten years and life is good…
Until a bunch of jerks think it's hilarious to put the "butterface" (AKA me) on a wedding Kiss Cam with the hottest guy ever—and that old humiliation hits hard.
I recognize him immediately. The sexiest cop in Waterbury and totally out of my league.
But then he kisses me. And we totally forget the room, the crowd, everything.
Then he tells everyone we've been dating for months.
Soon everything starts to feel too real, from adorable fights over "necessary" tools to fix my broken porch to surviving a free-for-all dinner with his six siblings to picking up where our last kiss left off.
But there's something he's not telling me about why he's really hanging around, and I'm pretty sure it has to do with my mob-connected brothers.
Because this is not a make-over story, and Cinderella is only a fairy tale…
About the Author
Biography
Avery Flynn is a USA Today and Wall Street Journal bestselling romance author. She has three slightly-wild children, loves a hockey-addicted husband and is desperately hoping someone invents the coffee IV drip.
She was a reader before she was a writer and hopes to always be both. She loves to write about smartass alpha heroes who are as good with a quip as they are with their *ahem* other God-given talents. Her heroines are feisty, fierce and fantastic. Brainy and brave, these ladies know how to stand on their own two feet and knock the bad guys off theirs.
Find out more about Avery on her website (averyflynn.com), follow her on Twitter (@AveryFlynn) and Pinterest (pinterest.com/AveryFlynnBooks), and like her on her Facebook page (facebook.com/AveryFlynnAuthor).
Join her street team, The Flynnbots, and receive special sneak peeks, prizes and early access to her latest releases!
Also, if you figure out how to send Oreos through the Internet, she'll be your best friend for life.
Contact her at avery@averyflynn.com. She'd love to hear from you!
My Review
This book gave me the feel-goods!
When Detective Ford Hartigan walks out of the shower in his hotel room and finds the wedding planner he'd met earlier that night undressing- for his benefit- he's all for it, until he discovers it was a trick put together by some other officers.
His explanations justifiably fall on deaf ears as the young woman escapes with her pride in tatters. But, then Ford learns that she is the sister of a couple of low-entry mobsters and it changes everything.
Regina (Gina) Luca is used to being dumped by men who can't see past the nose on her face so why should she be surprised when the guy she decides to take a chance on, makes a fool of her instead?
No guy wants to date a Butterface.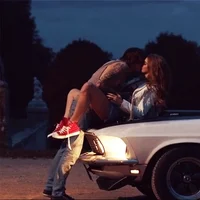 This book is everything a good, sexy romance should be. Ford is a straightforward, hotter-than-sin hero and Gina, far from being a damsel in distress, knows who she is and is just fine with that- even though there are scars from the past she can't quite ignore.
A couple of my favorite lines:
Disaster was bearing down on her like a midtown bus with busted breaks. There was no way she was gonna get out of the way in time. She was about to be a bug on the windshield of life.
Flynn, Avery. Butterface (A Hot Romantic Comedy) (The Hartigans Book 1) (p. 136). Entangled Publishing, LLC. Kindle Edition.
The woman just did things to him. She shook things up. And he liked it. A lot. Probably too much. He should probably be worried about that. He wasn't. He was too busy wondering how, when they'd first met, he'd missed how her eyes twinkled when she smiled, how the curve of her high cheekbones perfectly highlighted her dark eyes, and how the nose she hated so much gave her a unique look that was so much her own that she redefined what beautiful could be.
Flynn, Avery. Butterface (A Hot Romantic Comedy) (The Hartigans Book 1) (p. 172). Entangled Publishing, LLC. Kindle Edition.
There were a couple of minor editing mistakes, but it in no way diminished the story for me. I love this book and will definitely be adding it to my re-read list!